Connect and collaborate with your legal consultant
LIMINE provides you a direct line with the best legal consultants on the market. You introduce your assignment and we propose you our top 3 best fitted profiles. You choose who you want to work with.
Pay less
for the same service
Using our platform is the easiest way to stay in control of your legal budget. LIMINE works with a fixed commission of 15%, whereas other third parties will ask commissions up to 37% for the same service.
for your consultant using LIMINE.
*based on average commission & negotiation margins
Pay less for the same service
Using LIMINE you pay less for legal consultants, providing the same top quality of legal services.
Our platform works with a fixed commission of 15%, whereas traditional third parties charge you (at least) between 30 and 37% commission.
The example says it all..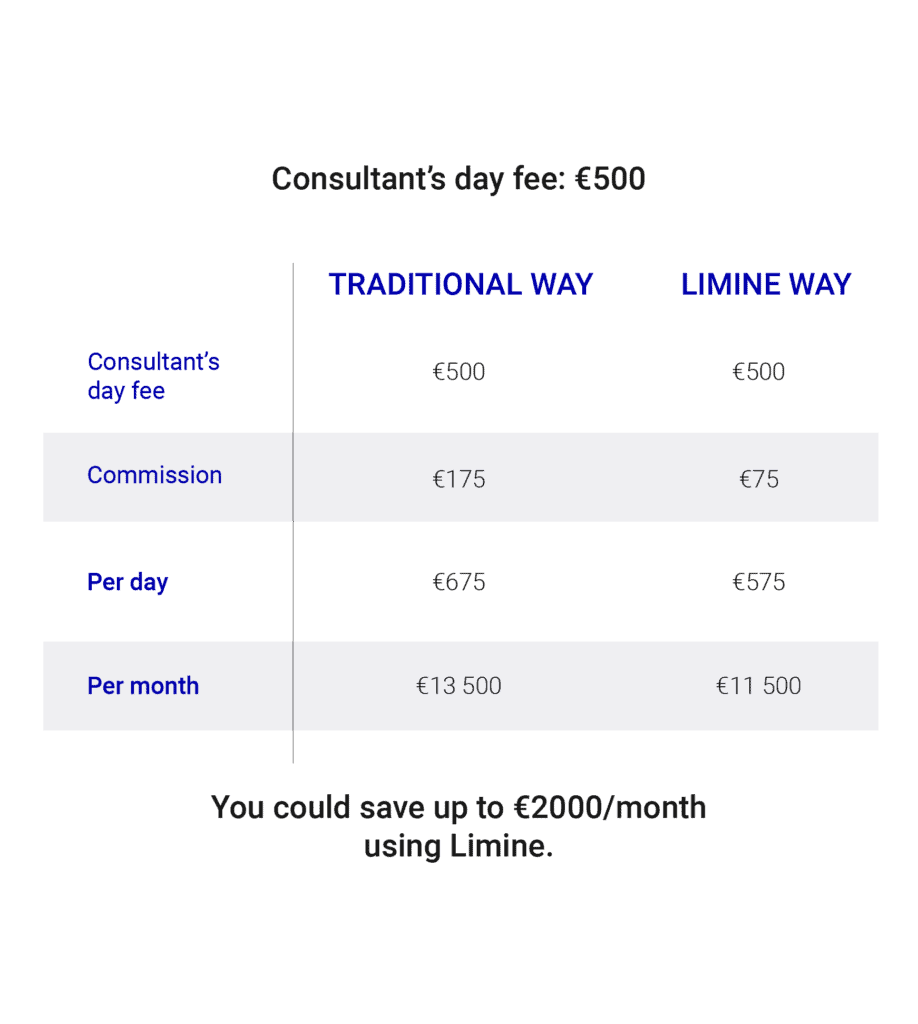 LIMINE is your legal connector
We are...
We provide the right solution for your specific needs
Legal Interim Managers
Our Legal Interim Managers are part of the best legal consultants on the market. Their proven experience both in legal and business matters in a wide range of industries permits them to provide premium and creative legal solutions. They bring added value to your legal team and your company from day one of their mission.
Ad Hoc Legal Consultants
Our Ad Hoc Legal Consultants are top of the market, providing to-the-point advice, support and guidance for your specific legal questions and issues. They act quickly, too.
YOU DESERVE ONLY THE BEST
LIMINE only offers top of the market legal consultants
How do we get the best?
CV
We carefully check the CV of all our legal consultants. What is their level of experience? On which practice areas do they focus? Are they business-minded? Are they creative?
Interview
Quality is key in our experience, so we uphold very strict selection criteria regarding our consultants. Our Consultancy Manager invites the best applicants in order to assess their skills level, experience, working ethos, communication style and personal attitude. Only the best legal consultants get to be part of Limine.
Evaluation
During and at the end of an assignment our clients offer both Limine and the legal consultant candid constructive feedback allowing us to learn and further grow.
1. Create your account
You register by filling out the form with your company information and contact details. After registration, you can immediately publish as many assignments as you want and connect with your matching legal partner for free.
2. Publish your assignment
This is where you convince our legal consultants of your assignment and your company. Describe in detail your assignment, what you require (practice area, experience) and what you have to offer. You can also contact us if you need a hand.
3. Review the applicants
Our technology matches your specific requirements with the skills and preferences of our legal consultants. You have full access to the profiles of our top 3 matching legal consultants on our short list. You'll see immediately how and why they are a match. It's up to you to choose the legal consultant you prefer.
4. Send a contract proposal to your best matching legal consultant
Send a direct contract proposal to your legal consultant or invite the consultant for an interview.

5. Review
Continuously learning and getting even better at what we do is essential to us and our legal consultants. Providing candid constructive feedback helps us improve our services and skills.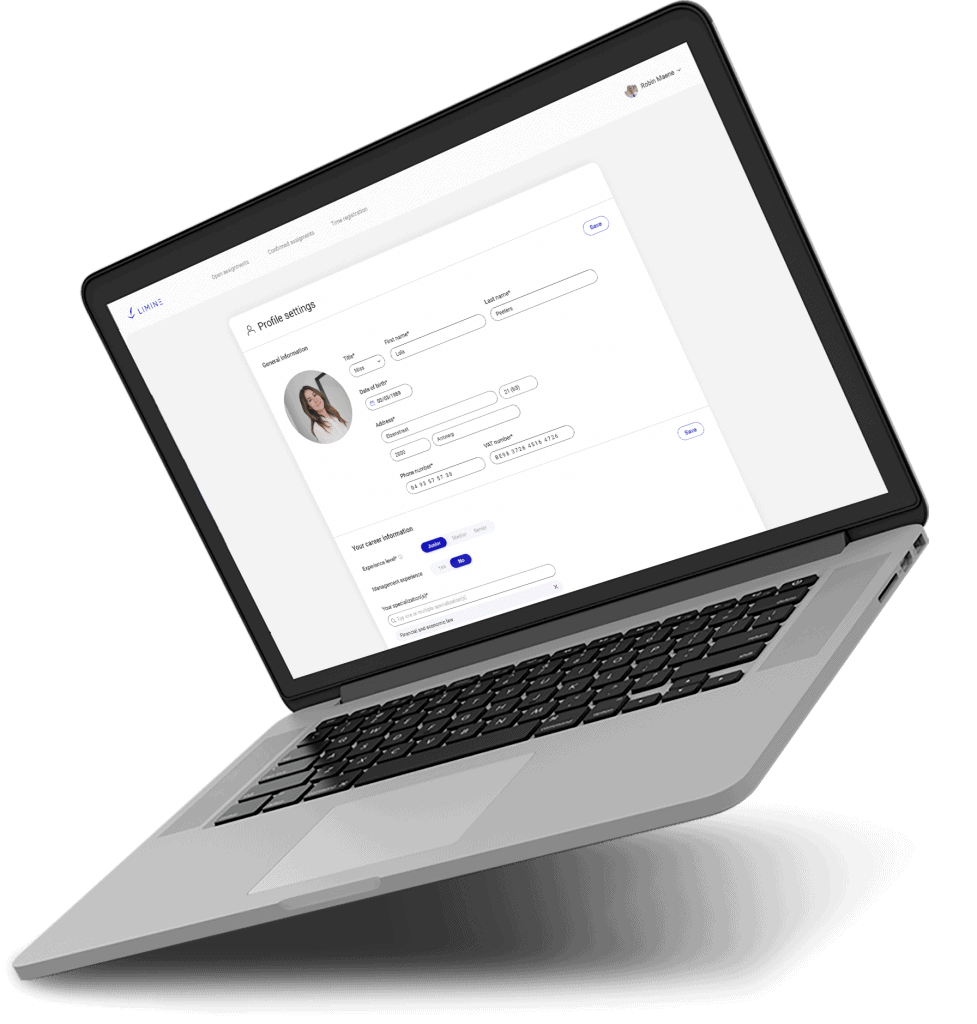 LIMINE FOR LEGAL CONSULTANTS
Looking for a legal assignment?
You like freedom above all in your professional career?  You like to thrive in different business and legal environments, to meet interesting people in all kind of industries and to challenge your legal genius?  Whether you are looking for a long or short term assignment, LIMINE has got what you want. 
Thanks to our all-in-one digital solution, you are free to communicate and negotiate directly with the company yourself, when and where you see fit.